After a full day yesterday and waking up in a sleeping bag on Antarctica, I was pretty worn out. After getting back on board and getting breakfast, the Plancius traveled to our next port of call. Port Lockroy, or Base A, is a British outpost that now serves as a museum and a place to conduct research. We were split into three groups, and when it was our turn, Charlie, Amy and I hopped on our Zodiac and took a brief tour of the bay before coming ashore.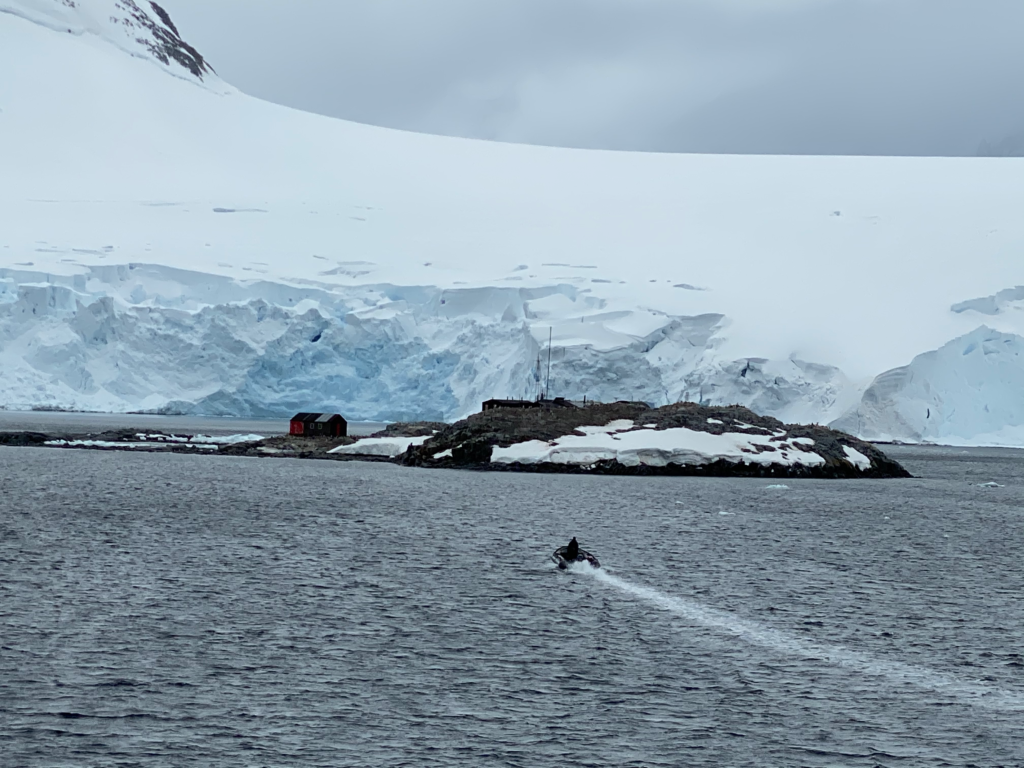 Port Lockroy is a small, sheltered island near mainland Antarctica that the British established in 1944 for territorial claims.
Having been the first over winter base established and recognizing the research done there through 1967, the remaining buildings were refurbished and the UK Antartic Heritage Trust took over operation.
They still send volunteers down to main and maintain the buildings during the non-winter months.
A couple things made this part of the trip cool for us. First, it's the only place on Antarctica where they will stamp your passport. To make it official, we all got our passports stamped so we can say we have been to Antartica. 
Second, there is also a post box where you can send postcards, which the grandparents all got. It took a couple weeks, and we saw them before it arrived, but they were also postmarked from Antarctica. Lastly, this outpost at the edge of the world had Whiskey. Good Whiskey. Styled after a secret stash of Shakleton's own whiskey that he took with him to Antarctica.
Port Lockroy was also full of Penguins. The spaces under the buildings made for more good nesting grounds and we were able to see babies. After walking around we hopped on our Zodiacs back for the Plancius.
After lunch, we decided against getting off at Damoy Point. Instead, we walked around the Plancius, took pictures and caught up with ourselves. We also got a chance to check out the Captain's Bridge – it was neat to see the amount of equipment they had, and the number of nationalities involved and how they were able to communicate and navigate.  It's also the only place on the ship where you can smoke, which apparently we had a lot of.