By far the biggest, and maybe boldest, decision we made was to rent bikes for the day.  We thought it would be easy to find some windmills.  But our cell phones wouldn't work, the directions we got were in Dutch, and the map was not to scale.  After biking to a ferry, we crossed the river, and wandered down a bike trail until we were certain we were lost.
About to give up, we stumbled on a farmer's market!  It was super cool, and thankfully had a coffee shop with WiFi.  We got our bearings and made it to our windmill destination.  Very cool scene: shops, farmer's market, and other museum places to walk around and explore.  We bought Charlies some clogs, and went back to town.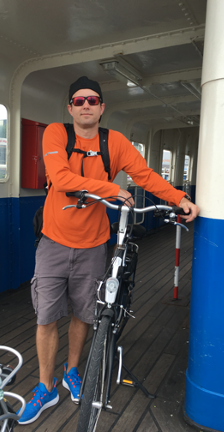 Thankfully it was easier to find our way back.
Once in town, we waded through throngs of pedestrian traffic, returned the bikes, went to the hotel and crashed.  Later we went too eat at Envy, the later on explored the Red Light District to see what it was all about – a full, fun day.