After we got off the Plancius, we slogged our bags and grabbed a taxi back to the top of the cliff for a night at the Arakur Hotel. We had to wait awhile for our room, so Amy booked a massage and Charlie and I hung out in the pool and played some games. Eventually we got our room and were able to take hot showers without the shower moving and got dressed up for dinner. Chez Manu is situated up the mountain from Ushuaia and offered some great views of the city and the channel. As accomodating as the Oceanwide staff was, it was nice to see a regular menu and have a normal meal. Towards the end of the dinner, Charlie was even invited back to the kitchen to see what they do and goof around a bit.
We got up this morning, packed our bags and hopped on a plane to Buenos Aires. By this point, we were seasoned South American travelers so we knew where the lounges were and that we had access to shorter lines thanks to Delta. If wasn't a quick flight, but it was easy. Once in Buenos Aires, we found our car service and headed to the Palacio Duhau, our hotel for the weekend. It was a beautiful hotel, and we got a room at a high floor that had space for all of us. The only problem, and this was to be a theme for the weekend, is how skimpy Argentines were with ice. Amy called for some, and got a small bag, so she called for some more. After hanging out with Brandon and Erin for awhile, we were off to learn how to cook pasta with Chef Saul. This was an amazing experience! After wondering if we were even in the right neighborhood, we went into an apartment building and up some stairs, but it turns out he does it right from his home. He welcomed us in, fell in love with Charlie, poured Amy and I some Argentine wine, and we started learning about pasta. Amy would later find out that the bottle of wine, which he said was one of his nicest, was only about $20US, which is like a lot of the wine there – super good and super cheap. We made Ravioli and Fettucine style noodles and even had some home made ice cream, and Saul was talking and teaching and joking the whole time, an incredible night in the heart of South America.
New Years Eve! We got up, had some breakfast, I even got a little run in. It's always fun to use running as an excuse to see a part of the city, it's like Tourunning or something. Before our trip, Erin had made arrangments to eat at one of the Worlds Top 50 restaurants on New Years Eve – Mishiguene. Since it was New Years Eve, the restaruant had emailed ahead of time to confirm the reservation – only that they emailed when we were in Antarctica and didn't have email or reception. They had decided to cancel our reservation since they had not heard back, and Brandon and Erin discovered it when they read 'Cancellado' on an email. A lot of frustration and some phone calls, they had given our table away and didn't have any tables, and the best they could do was sit us outside. It wasn't ideal, but we couldn't find any reservations anywhere else, so we moved ahead. We get dressed up, get a ride to Mishiguene, and it looked to be a nice place. In one last attempt, we tried to bribe our way inside but it didn't work. Outside on the street wasn't what we were hoping for to ring in 2020 – a little chilly, a little smelly, and when the server asked if we had any requests and Brandon said 'No Onions', she told us that was pretty much the menu and we would have to deal. Dinner didn't get much better, but the silver lining is we ended the dinner early in time to get back to the hotel. We ordered up a bottle of Champagne and toasted ourselves into the New Year!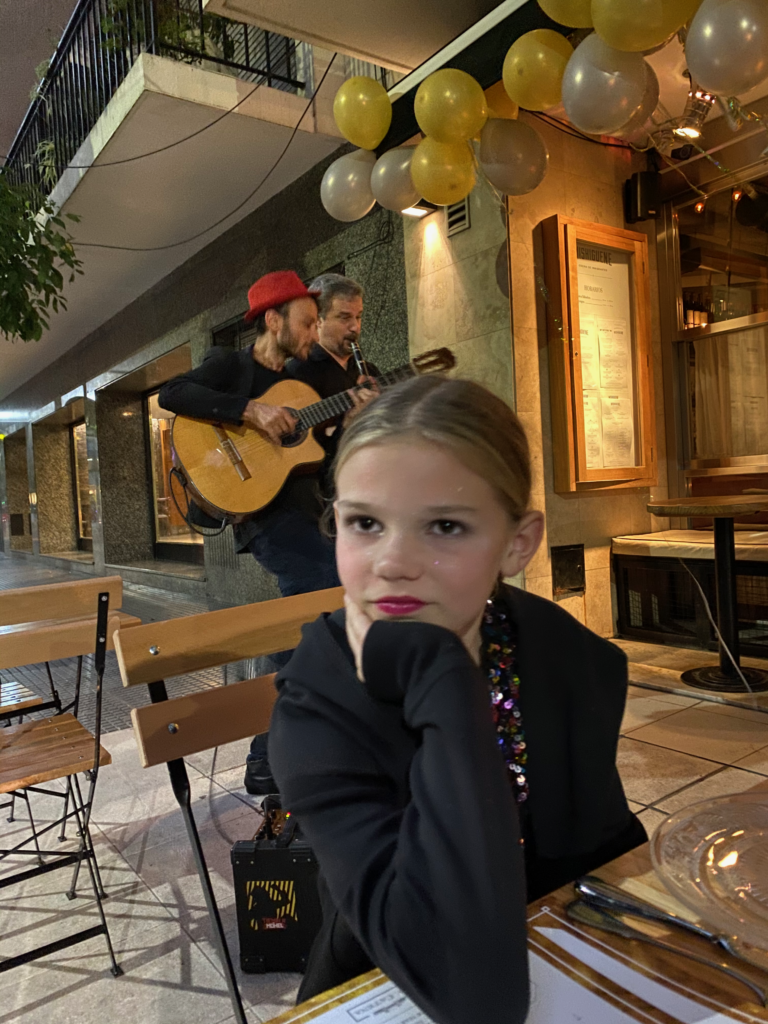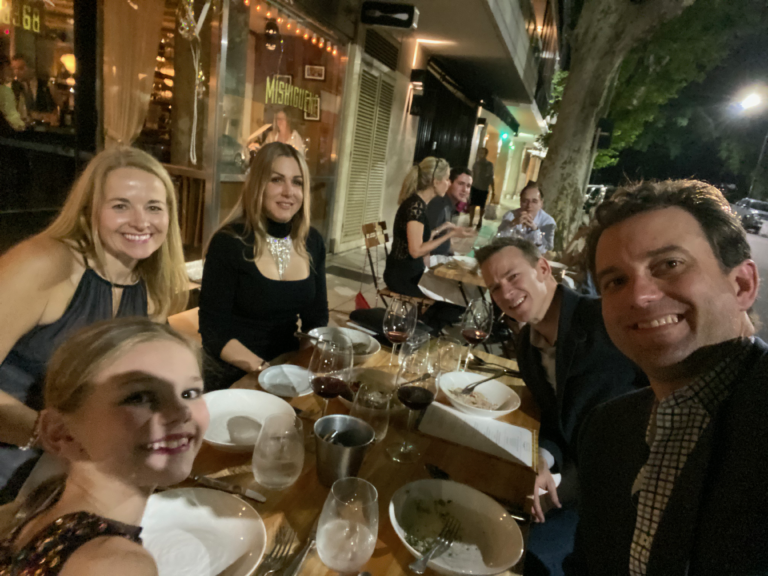 Argentina like to start late and sleep in. Nothing was open before noon, not even McDonald's. We thought we would walk around, but it ended up just that, a walk. Amy and Charlie had scoped out a cool library that we were trying to get into, but that was closed entirely on New Year's Day. We hung out at the hotel for awhile, order buckets of ice for Amy, and got ready for our evening. We had made plans to see a Tango show, so before that we got reservations at Cabana Las Lilas. It was a wonderful steak house in the Puerto Madero district, with a great vibe, plenty of wine and bourbon, and of course huge cuts of steak. We walked through town to El Viejo Almacen, and found a line to get in. It seemed like such a cramped space once we were inside with a small platform for a stage. Amy's nerves were getting the best of her, but once we had a cocktail and the show started, it was breath-taking to see these people dance, play, and perform.
It was time for our adventure to wrap up. Brandon and Erin had hopped on an early flight back home, so it was down to the three of us to explore the city for another day. While I was doing another Tourunning , the girls found some malls to check out. Earlier in the day, we made to the library finally, which looked like it was built into an old concert hall. The girls found their McDonalds, which had a walkup Creamery, and we ended our night at another good steak house, La Pecora Negra. The food was delicious, and by now I had honed my Spanish enough to tell the server 'Ellas necesitan mucho hielo' so that Amy could have a proper glass of ice water
1/3 Beunos Aires - Rio de Janeiro - Home
Our last morning we packed up our stuff, shuttled to the airport, and got to clear customs several times since we had to connect through Brazil to get home. Our hearts were full after a wonderful adventure.